Coin Machine is nothing new in this market. We have been using this technology since we were very young. Yes. Its called the vending machine. For so long... This technology has only been used for mechanical vending purposes; Only up till recently, people decided that we should integrate these machines to allow interface with software!
That open up a whole new possibility for software companies like Accentuate. We are able to take this technology and turn it into solutions that help many business owners save labour cost!
All hardware are purchased from Innovative Technology. You may choose to purchase direct from them if you like. The products recommended here on this page are products that Accentuate is familiar and had experience with.
We are NOT able to provide you with repair and maintenance support as we do not have a local team.
However, purchasing from us will allow you to discuss programming and coding strategies together with our engineer and work together with us to develop software that you need.
Disclaimer: Such offer is available to you on a good will basis and should be used with respect as well as to our convenience.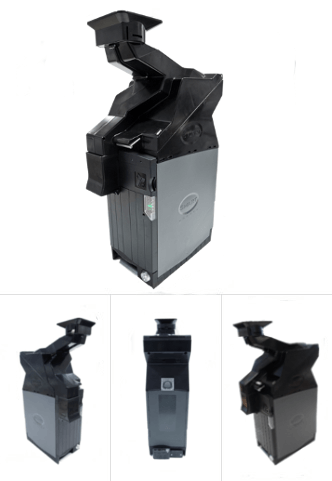 This is one of the better machines out there that allows collection of multiple coins at one go. It works well with the Smart Payout Cash Validator if you decide to use a Bill and Coin strategy. Allowing both bill and coin recycling is one of the best way to have machines automate transactions throughout the day without human intervention to prevent starvation of notes or coins.
Features
Allows bulk coin insertion
Quick validation and recycling
Reduce or eliminate cion starvation
Multi Frequency sensing technology
Protocols
Interfaces
USB with IF17
Open Collector
Coin Dimensions
Diameter: 18 - 28.5mm, Thickness: 1.65 - 3.2mm
Max Coin Capacity
These are some of our clients, ranging from micro SMEs to MNCs. We hope you may recognize some of them.