Self Service Kiosk and Self Payment Kiosk, is on the rise in demand as Singapore companies start to look for strategies to improve productivity and reduce cost. This is partly due to our tightening labour laws in using foreign talents for services. Companies find that they are given less quota compared to the past with the same number of Singaporean employees.
Self Service and Payment Kiosk is the best go to solution if you are in the retail space. Instead of needing to hire 3 counter staff, now you may find yourself needing to hire only 1. This staff is to serve the minority who still prefers to purchase through a face to face transaction. However, recently we are seeing more and more people opting to use the kiosk instead.
Not having to queue up is a perk in itself!
This machine you see below is our latest model and it marks the start of our latest series. The Black and White body made this kiosk a sexy one and also it is our signature colour for this range of machines. More models will be coming soon and there will definitely be one that fits your business operations.
We are looking for clients in the following industries and if you belong to these categories, do enquire with us as you will be given the privilege of discounts. This is a short offer only and if you are interested, please do not hesitate to avoid disappointments.
F&B, POS Resellers, POS Developers, Kiosk Software Designers & Developers, Frozen Food and Grocery Distributors.
Fully Customised User Interface
Every business is different. Every company has their own branding. We are able to design the user interface according to your preference and design if you like.
Nets, Cash, Credit Acceptance
We have the ability to deploy solutions that accepts cash, nets as well as credit card payments. This will allow client to make payment easily for their orders.
Stand Alone Solution
If you prefer a stand alone solution; You will be glad that this can be a clean stand alone deployment without having to purchase any other software solutions.
ERP Integration Option
Since Accentuate is already in the ERP business, we do offer clients to deploy Self Service and Payment Kiosk that are fully integrated with our back end ERP Software.
This will allow you to have integration in both accounting as well as  inventory.
Sales & Various Reports
Reports will allow you to make better decisions.
Note Validator & Recycler
There are many things to consider when you buy a self service kiosk with note validators or recyclers. You may want to ask yourself the following questions:
How much do you collect in cash each day?
Do you need change to be given to your clients?
Do you want to collect your revenue at the end of each day?
Do you want to store your revenue for a few days before collecting?
Have you allocated a space to position the kiosk?
Do you have an internet connection and router?
Does the sun shines directly at the space you would like to install your kiosks?
Do you want to also accept ePayments?
These questions may be too much to ask from an average retail business owner; That's what we are here for. We are here to help you solve your problems and ask the right questions for your on your behalf during installation. Call us today to find our more.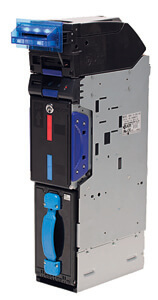 - Full Note Capacity is 1,200 Pieces
- 1 x 1,000 long term Storage
- 2 x 100 Recycler
- Each recycler is able to hold 1 denomination
- Safety lock mechanism
Direct import from Japan and supported by JCM Direct.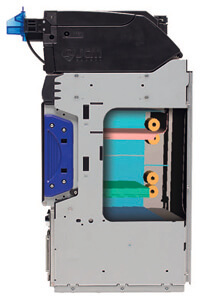 Cross sectional view shows you the inside of this machine. The recycler is really easy to load; You may insert a full whole stack of a 100 notes in each recycler.
Based on our experience operating an FnB ourselves previous and with trial and error, we suggest that $2 and $10 would be the most optimum setting.
Coin Validator & Recycler
The problem with wanting cash ability in your kiosk is that you will have to deal with giving change.
So far, we have been very successful deploying these machines to the hairdressing industries as many owners have decided that they are willing to simplify cash collection by making each transaction into simple note denominations.
Unfortunately, not all industry enjoys the same kind of privilege. Certainly, the Food and Beverage Industry is one that cannot do that. A dinner bill can sometimes sum up to more than a $100. As requests for such machines started to increase, Accentuate embarks on a journey to research for a better yet affordable solution. Here is the result of our efforts.
the CPI CR 100 Coin machine not only has a huge capacity; It helps you sort coins into each denomination and on top of that, it gives you tremendous speed. This unit has now become our standard deployment for cash machine.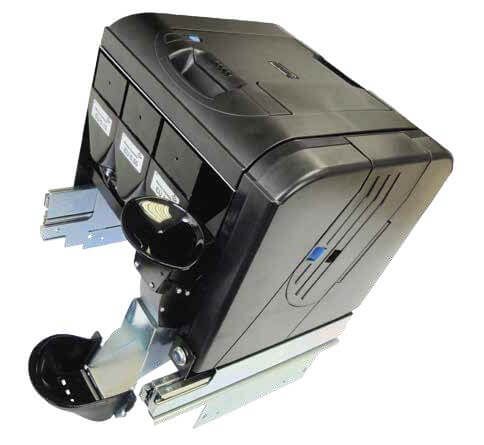 - Full Coin Capacity is Approx 1,500 Coins
- Auto sort the coins into each denomination
- Accepts and Dispenses $1, $0.50, $0.20, $0.10.
Direct import from Australia and supported by CPI Direct.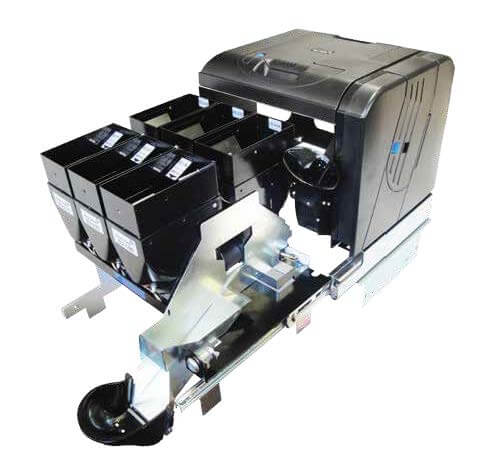 When you extract the tray out for coin collection. The good news for you is that you will not have to sort the coins yourself. This machine sorts them for you automatically as it collects and validates each transaction.
This is one major reason Accentuate chooses this machine. To us, this is a very important feature which many coin machines out in the market lacks; After all, how many of us love sorting coins? Yucks!
These are some of our clients, ranging from micro SMEs to MNCs. We hope you may recognize some of them.