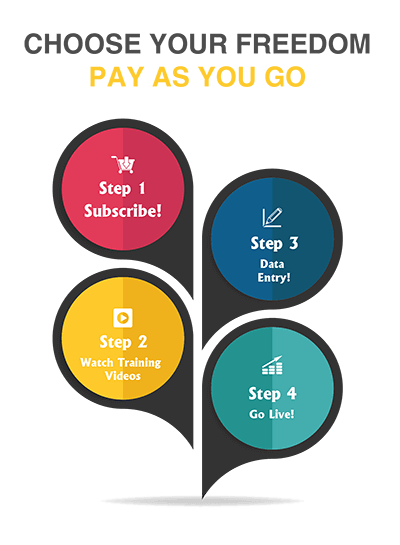 CRM SAAS is probably the next best option for a starting up business. Who doesn't want to have the best software they can lay their hands on? Well, lets be realistic. Every business starts off small and grow bigger over time. So as much as it makes total sense to start directly with a full fledged ERP Software, Accentuate do recognize that there are Micro and Small businesses out there who are very tight on budget. Every dollar counts when it comes to business!
So instead of pushing you away, we have decided to design a package just for clients who wants to start with just a CRM Solution. This will tailor directly to your needs and yet not burst your budget.
You will also be very happy to know that we have thrown in our Invoicing Software for you in this package too! What good is a CRM without the ability to issue invoices and track client payments from the quotations you have created?
The good news is; If you are a service based business... This might be the only solution you need in a long long time!
But hey! What if you decide to expand in near future, and you require our full fledged solution with all the neat modules that we have? No problem! You can always contact our customer service for an upgrade to an ERP SAAS Package any time!
We all start small and grow big. This package allows micro SMEs to start using a decent software right from day one.
CRM - Classic Yearly Promo
We love clients who go all out! And for that we reward you with 1 months worth of free usage each year!
Nothing is certain in business. We offer you our service as and when you need it and as and when you can afford it. No Strings attached!
We love clients who go all out! And for that we reward you with 1 months worth of free usage each year!
Awesome Accentuate CRM Features
We belief we are one of the most comprehensive CRM in the region
Features
Unlimited Users
User Friendly
Web Based
No Complex Installation
Work On Windows & Mac
Daily Backups For Up To 30 Days
30 Days Money Back Guarantee For First Time Client
SUBSCRIBE NOW!
Features
Unlimited Customer Creation
Individual & Company
Unlimited Contacts Per Company
Unlimited Location Per Company
Unique Contact Detail For Contact & Location
Assign Unique Price List To Customer
Set Warning Or Block Customer Sales
SUBSCRIBE NOW!
Features
Beautiful Dashboard
Sales Order Status
Create Multiple Sales Teams
Personalized Pipeline Stages
Use Price List For Price Modification
% Discounts On Sales Order Lines
SUBSCRIBE NOW!
Features
Unlimited Quotations
Click And Choose Products
Duplicate Existing Quotation With A Click
Auto-load Product Description
Tax Inclusive/Exclusive
Display Total Amount In Words
Full Audit Trail
Allow Invoice Address
Allow Delivery Address
Send Quotation Through Email
Print Quotation In PDF
Upload Relevant Documents
Several Templates to Choose From
Personalize With Own Company Logo
SUBSCRIBE NOW!
Features
Unlimited Products
Internal Reference Code
Capture Product Barcode
Insert Product Picture
Selling Price
Cost Price
Product Variant
Variant Add-On Price
Activate/De-Activate Product
Set Warning Or Block Product Sales
SUBSCRIBE NOW!
Features
Unlimited Price List
Set Price Based On % Discount
Set Price Based On % Mark Ups
Base Price On Cost/Selling Price
Set Price List Effective Period
Use Complex Formula For Price List
Nesting Of Price List
SUBSCRIBE NOW!
Features
Unlimited Invoice Creation
Turn Quotation To Invoice With A Click
Partial Invoicing Of Quotation
Include Or Exclude Taxes
Include Payment Terms & Conditions
Custom Payment Terms & Conditions
Several Templates To Choose From
Auto Running Number
Show Unpaid Clients With A Click
Invoice In Foreign Currencies
SUBSCRIBE NOW!
Features
Full Traceability Of Payment
Payment By Cheque, Cash, Bank Transfer
Tracks Partial Payment
Reprint Invoice With Outstanding Payment
Show Unpaid Client With A Click
One Cheque For Multiple Invoice
Collect Payment in Foreign Currencies
SUBSCRIBE NOW!
Features
Unlimited Journals
Unlimited Journal Entries
Automated Entries through Invoicing
Manual Journal Entries
Bank Reconciliation
Standard Accounting Reports
Profit & Loss
Balance Sheet
Singapore GST Form 5
Aged Receivables
Aged Payables
Trial Balance
General Ledger
Multi Currencies
SUBSCRIBE NOW!
Pay As You Go, Grow As You Go
Pay As You GoGrow As You Go
Note: This applies to clients who are not using 1 month free trial
Accentuate does not like complex pricing models. We belief in simplicity so that our clients know exactly what they are buying and paying for and they get exactly what they need. In fact it saves us time from explaining to clients about the packages.
So. What do we have for you?
Pay As You Go: Monthly Plan
Value For Money: Yearly Plan (Save 8% Per Year!)
That's all! All features and functions of CRM Software will be included in these 2 packages! The only difference is: If you are willing to trust us and commit 1 year of payment; Accentuate will reciprocate by giving you 2 months worth of complimentary subscription yearly!
You can discover our included features here!
What To Expect After Signing Up
These are some of our clients, ranging from micro SMEs to MNCs. We hope you may recognize some of them.