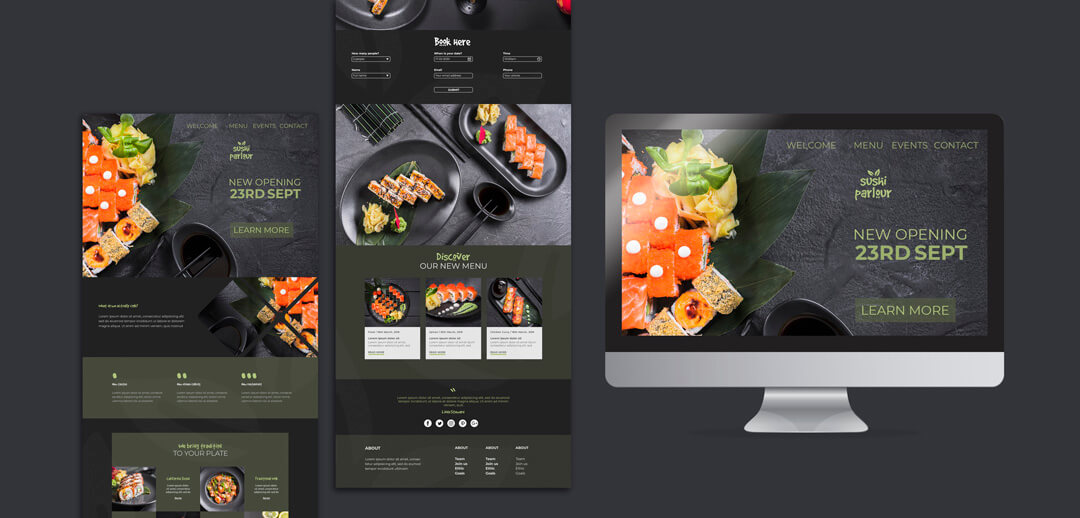 Here are the 10 Things that you should consider when you are building your website. If you are outsourcing the work; It is wise not to assume that your vendor will consider these items for you. It is always good to know why these are important so that you can ask your vendors the right questions.
Great Content Management System
Good Host and Domain Registrar
Responsive Design
Loading Speed
Web Content
Relevant Images & Videos
Website Security
Backups & Disaster Recovery
1. Great Content Management System
This is the most important tool in your entire web development project.
If you are a non-tech savvy person, A content management system (CMS) is a software that allows you to Create, Edit, Delete, and Update your web pages, blogs, and images. If you use a good CMS, it will mean that your job of maintaining your web pages in future becomes much easier. You will not need to keep calling up your vendor for minor changes.
A few of the most popular CMS in the market includes:
WordPress
Joomla
Drupal
Wix
Shopify
For me, personally I prefer to use WordPress. It is one of the most common and widely used platform for building a website. Its framework is mature and because of its popularity, it is also easy to find a developer who is skilled enough to make changes for you.
On top of that, you will be able to find lots of plugins that you can use for your website; Be it for complex deployments of for basic cosmetic changes.
Build a Website with Accentuate
You may purchase directly from our eCommerce, or you may send us an enquiry.
2. Good Host and Domain Registrar
Choosing the correct Host and Domain Registrar will save you lots of time. A good host will provide your website with enough computing resources so that your website does not crawl like a snail. Web loading speed is also very important when it comes to search engine optimization. We will cover more of that later in this post. Loading fast is one thing, you also want to make sure that the host does not goes down regularly; While it seems to be quite obvious that this should be the case, there are many host that does not have a good track record of keeping their servers up all the time.
A good registrar will allow you to make changes to your DNS records easily. If you need to contact support each time you want to change your DNS, trust me, you will have a terrible experience.
In the technology world, anything that can go wrong, will probably go wrong one day. You will inevitably need to contact your hosting or registrar for support some day. Make sure that the provider you are getting from has a good service level agreement and support.
There are several good host in Singapore and below are some good ones that you may choose from. We personally prefer SG Value Host as they provide one of the most affordable yet reliable hosting based on our experience.
3. Responsive Design
Today, website can be served to many different devices. Desktop Computers, Tablets, as well as Mobile Phones. Making your website responsive means to make your website easy to read and navigate in all these devices. This will make sure that your visitors have a good time visiting your site. With a good mood, the chances of closing a sale or sending an enquiry would be higher.
Also, it is important to make sure that all the functions you build for desktop computers should work in both tablets as well as mobile phones. If they don't work, it might be a good idea to hide them in these devices. You would not want your visitors to come to a site that seem to have broken features.
4. Loading Speed
In Singapore we are spoilt with fast internet connection. So we assume that a good loading speed means 1 to 3 seconds. In fact an average loading speed of around 5 seconds is considered average and acceptable in the eyes of Google.
There are tools as well as techniques that a web developer can do for you to make your website load much faster. Talk to your vendor and ask them what techniques they use to help you speed up your webpages load speed.
If he does not know the answer to this question, it might mean that he could be new to the industry and if you would like to give him an opportunity to work for you, you probably can get away with asking for a discount.
5. Web Content
This is yet another piece of the puzzle that client always over look. Client usually thinks that content is not important; What's important is that we have an attractive website that wow the visitors when they land on our website.
Yes, and No.
While you might be able to wow your visitors with great web design. If your page delivers little to no content; it can be a frustrating experience for your visitors. The reason they are on your website shows that they are looking for a solution or service. In order for anyone to make a decision to buy or even send you an enquiry; You need to display your domain expertise. Show them your services, why they should work with you, and what should they expect when working with you.
6. Relevant Images & Videos
Lots of Images and Videos does not equals good conversion.
Include Images and Videos sparingly and put them there only when they are relevant. Many visitors browse websites with mobile phones today and data doesn't come cheap. If you include loads of irrelevant images and videos, it can become quite irritating.
Use an image or video when you need to emphasize or further explain your products or services.
An explainer Video provides a good alternative to visitors who don't really like to read. Make sure you don't auto play the video so that it does not consume too much data if the visitor is not interested.
7. Website Security
This is usually the last thing any client would think off because any crisis would sound so impossible and farfetch until it is too late.
A good website vendor would know exactly how to harden your website and put in a reasonable amount of preventive measures to fend of your average hackers.
Some of the recommended security features to implement would be:
Use complex and difficult to remember User Names & Passwords
Example: uE(v;$W4GV33, +K3g2XN].ew2
Use 2nd Factor Authentication for logging into admin panel of your CMS
Keep a list of Melicious IP address and ban them from accessing your website
Keep all your plugins as well as CMS updated with the latest security patches
Do regular malware scans
You get what I mean, there are many things that you can do, and should do when you can still do something about it.
The last thing you want is to have the website make you lots of money and suddenly its taken down by a malicious attack and you have to lose days of income. The worst part is that getting an expert to solve this problem can be expensive.
8. Backups & Disaster Recovery
Backups are always the life saver. When all else fails, having a backup is like finding an oasis in the dessert.
The common mistake that most people make is; Keeping too few backups. Why? Because backups are not only for situations where your site crashes. It can be used to restore your site to the day before a malicious hacker's attack. And by doing so, you do not need to look for those malicious codes or back doors that the hacker could have planted in your software.
This could save you lots of money and time.
We recommend keeping up to 180 days worth of backups.